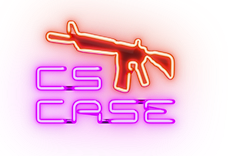 Faq
How to play?
Click any case on .
Next, specify the number of cases you want to open and click "Open Case".
The game starts, and immediately the game drum with different CSGO skins starts.
After a few seconds it stops, and only your luck determines which skin you will get!
What can I do with my winnings?
Winning skins can be sold to the site or withdrawn to your Steam account.
For this or that action, go to your profile by clicking on your avatar in the upper right corner of the page, and then hover the mouse cursor over the item in your inventory.
After that, the item will display two buttons: "Sell" and "Withdraw".
How to make deposit?
Click on the "Add balance" button in the upper right page corner and select the amount of the deposit in the next window.
Then click the "Pay with cash" button and you'll be automatically directed to the payment system page, where you'll need to choose the convenient payment method and complete the payment.
How to deposit skins?
Click on the "Add balance" button in the upper right page corner and click the "Pay with Skinpay" button.
What are Contracts?
Contracts allow you to exchange multiple skins for one more expensive. You can add from 3 to 10 items to your contract.
Click on , add the items you want to exchange (they are at the bottom of the page) and click on «Create contract».
Withdrawal issues? Didn't receive your payment?
If you have problems with withdrawal of prizes, you should contact our consultant by clicking on "Help" in the right corner of the page.
Haven't received money onto your account?
Generally, users getting their funds within a minute after payment.
If you made a deposit 20 minutes ago and still have not received money onto your account, please contact our technical support by clicking on the button "Help" on the left page corner.
How to play on a free wheel?
Click on Free-Wheel button in upper-right corner.
Hold your mouse and drag the lever down.
A few seconds after releasing you will see your prize!
You also can get a letters. Collect the whole word "CSCASE" to get 100$ to your account!
How do I activate a promo code for the Bonus Wheel?
Go to the page.
Click on the "Enter Secret Code" button.
Enter your code and click the "Activate" button.